Kilkenny in Autumn isn't just about how the lush green landscapes transform into vivid shades of red, amber, and gold — this fall, the city emerges as a vibrant hub of cultural attractions, festivals, and events that celebrate the spirit of autumn. 
Aside from its well-preserved medieval heritage and charming streets, Kilkenny is also renowned for its vibrant arts and cultural scene. This autumn, the medieval city offers a delightful tapestry of unforgettable experiences as the city hosts festivals and events that celebrate music, crafts, literature, theatre, and food. 
What's on this September, October, and November 2023 in Kilkenny? This autumn travel guide gives you a sneak peek at Kilkenny's jam-packed calendar of festivals and events. We'll also give you some tips for embracing Kilkenny's splendour this fall.
1. Kilkenny Arts Festival (September 9 – 19, 2023)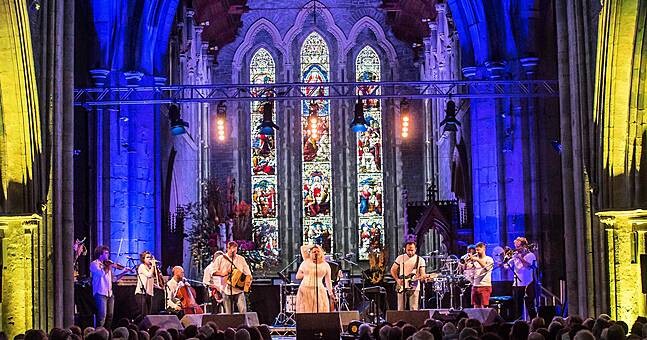 The renowned Kilkenny Arts Festival is one of the best ways to welcome autumn. The festival is a celebration of creativity, transforming the medieval city into a dynamic hub of artistic expression. 
During the 10-day extravaganza, expect to see everything from theatre performances and classical music concerts to contemporary exhibitions of visual art and literary work. To make the most out of the bustling festival season, make sure to secure a hotel in Kilkenny in advance. The marble city offers a wide array of accommodations, from cheap hostels and B&Bs to boutique hotels. 
2. Savour Kilkenny Food Festival (October 27 – 30, 2023)
Food enthusiasts rejoice during the Savour Kilkenny Food Festival, where the city's culinary scene takes center stage. Enjoy a bustling 100-stall food market, cooking demos by top chefs, workshops, tastings, dining events, and celebration of the local produce From local delicacies to international flavors, this culinary extravaganza showcases the very best of Kilkenny and Irish products, chiefs, and culinary ideas. 
Don't forget to explore local farmers' markets for seasonal produce, artisanal treats, and handmade crafts.
3. Kilkenny Animated Festival
Kilkenny Animated is a festival of visual storytelling using cartoons, animation, and illustration. 
The Sound of Animation is the theme for this year's festival. It explores the rich soundscapes of animation from sound design to voice acting and composing foleys. Enjoy a series of exhibitions, talks, workshops, performances, and experiences that celebrate the craft of visual storytelling. 
Kilkenny Animated takes place in the city's heart from September 29th to October 1st.
4. Kilkenny Craft Month
Throughout November, Kilkenny celebrates its vibrant craft scene. It's the perfect time to explore galleries, studios, and craft shops, including the Kilkenny Design Centre to find unique souvenirs and gifts crafted by Irish artisans. 
5. Halloween in Kilkenny
Autumn means Halloween is just around the corner. As expected from the medieval capital of Ireland, Kilkenny is bursting with spooky tales and fun things to do during October. What better way to celebrate Halloween in Kilkenny than joining a ghost tour? 
Kilkenny Ghost Tours take you through the cobbled streets to uncover the city's haunted history and spine-tingling stories. Remember: these gory stories aren't made up — they're all based on facts and arise from genuine historical tragedies. 
Your Halloween in Kilkenny will never be complete without visiting Kyteler's Inn, a lively pub with a history dating back to 1263, It was first established by the notorious Dame Alice de Kyteler, who was the first recorded person condemned for witchcraft in Ireland. 
6. Smithwick's Experience
Dive into Kilkenny's brewing heritage with a visit to the Smithwick's Experience. Here, you'll learn the 300-year history of Kilkenny's local beer, at the place where it was once brewed in Kilkenny's Abbey Quarter. It's not just about enjoying a pint — your senses will be engaged as you learn from the experts how the core ingredients of the iconic red ale evolve from their rawest form into the beer itself.
The historic attraction, which closed in the spring of 2019, reopened its doors last 2022 with new features: the Barrel Yard and the Flavours Room.
7. Cosy traditional Irish pubs
As the temperature drops, explore Kilkenny's traditional pubs to cosy up and experience the city's renowned hospitality. Savor a pint of Ireland's finest brew by the fireplace while enjoying live music sessions. Soak up the local ambiance by singing along or dancing to the lively tunes, brought to you by our talented local musicians and performers. 
8. Nature walks and hikes
Want to break from the city festivities and embrace Kilkenny's natural wonders? Autumn is an ideal time to immerse yourself in the region's natural beauty. 
Head to the Castlecomer Discovery Park and wander through the walking trails, woodlands, and meadows. The park also features picturesque lakes, treetop adventures, and the scenic Coalbrook Walk, which takes you through a former mining area.
Woodstock Gardens and Arboretum, located near Inistioge, is another must-visit for nature lovers. The expansive garden offers walking paths that wind through beautiful landscapes, formal gardens, and a diverse collection of trees and plants. 
From cultural celebrations to outdoor adventures, each corner of the city holds a special allure during this magical season. Whether you're savoring local cuisine, exploring historical sites, or soaking in the breathtaking landscapes, Kilkenny's autumn has something for every traveler seeking to embrace the beauty of the season.
Author Bio: Carmina Natividad is a foodie and travel blogger who hates being locked up at home. Her fondness for travel, food, and cultural appreciation makes it easy for her to write inspiring pieces of content about them. To learn more about hotels and travel blogs, you may visit The Hoban Hotel Kilkenny.