So you've found the perfect conference venue for your meeting or seminar. The space is adequate and stylish, the location is accessible, and it has everything you need for your event. The next question is: what's the seating layout gonna be? 
Though it often comes as an afterthought, selecting the right venue layout is one of the most critical decisions you'll make to ensure your event's success. The layout not only affects the comfort and engagement of your attendees but also influences your program flow and the overall effectiveness of your conference.
In this guide, we'll walk you through the key considerations to ensure you choose a venue layout that aligns perfectly with your conference or meeting goals.
1. Define Your Goals and the Nature of the Event
 Choosing the right room layout depends on the goals of your event, the level of interaction you want to facilitate, and the type of content being presented. 
Are you aiming for collaborative discussions among a small group of people? Do you plan to educate through informative audiovisual presentations? How about an interactive workshop that requires attendees to create and share their output? 
Before diving into layout options, make sure to outline your event's objectives. Your goals will shape the layout that best accommodates your intended outcomes.
2. Know Your Audience
Consider the size and demographics of your audience. A large conference might benefit from a theater-style layout for presentations, while a smaller workshop might thrive with a classroom setup that encourages interaction. 
4. Level of Interaction
Next to the goals of your event, choosing the right room layout depends on the level of interaction you want to facilitate. Assess the level of interaction and engagement needed for your event. If active discussions and group work are essential, you may opt for meeting rooms with a U-shape or classroom style. These layouts encourage collaboration among attendees. For more passive events, theater style may be appropriate.
5. Tech and AV Needs
Some meetings can be pulled off using basic tech elements, like a standard projector for visuals and a decent microphone for the key speakers. Others, however, require advanced AVP equipment, and lights and sounds. 
If your event involves presentations or multimedia elements, ensure the venue layout accommodates the required audiovisual setup. Theater Style and Classroom Style often work well for tech-heavy events.
6. Comfort, flow, and accessibility
Sure, it's possible to fit 100 people into the room. But if your event requires a lot of moving around and socialisation, your attendees might find it cramped and uncomfortable. 
Plan the flow of attendees within the space. Ensure easy access to restrooms, refreshments, and breakout areas. 

Limit the use of furniture

Prioritize attendee comfort. Provide ergonomic seating, ample legroom, and proper lighting for a conducive environment.

Consider accessibility for attendees with disabilities. 
7. Embrace Flexibility
Planning to customize your event and align it with your brand? Opt for venues that offer flexible layouts. Some venues can easily transform from theater-style setups to more interactive formats, giving you the versatility to adapt as the event unfolds.
In the era of virtual events, you may also consider hybrid setups that cater to both in-person and remote attendees. This might involve a stage for presenters and screens for virtual participants.
8. Test Visibility
In larger setups, test visibility from various angles. Avoid obstructed views, and ensure screens and presentation materials are visible to all attendees.
9. Consult with Venue Staff
Engage with the venue's event team. They can provide insights on the best layouts for the space and help you execute your vision effectively. They'll also be of great help for branded events wherein placing banners, signages, and digital displays are necessary. 
Understanding the Different Room Layouts and Seating Arrangements
One of the benefits of renting a conference venue is you won't work with a vast, blank space — you can choose from an array of room layout options they offer. This conference venue in Dublin 
Here are some common room layouts for meetings, seminars, workshops, conferences, and other corporate events:
Theater Style
Chairs in rows facing the stage or front of the room.

Ideal for large presentations, keynote speeches, and seminars where participants primarily listen and take notes.

Maximizes seating capacity but limits interaction.
Classroom Style
Tables and chairs are arranged in rows facing the front.

Suitable for training sessions, workshops, and presentations where note-taking and interaction are important.

Promotes engagement and allows for small group discussions.
U-Shape
Tables are arranged in a U-shape with chairs around them.

Encourages interaction and discussion among participants.

Great for group discussions, team meetings, and collaborative sessions.
Boardroom Style
Large table with chairs around it.

Perfect for formal discussions, decision-making, and small committee meetings.

Fosters a sense of collaboration and focused conversations.
Banquet Style
Round tables with chairs around them.

Ideal for networking events and meal functions

Allows for comfortable interaction among attendees.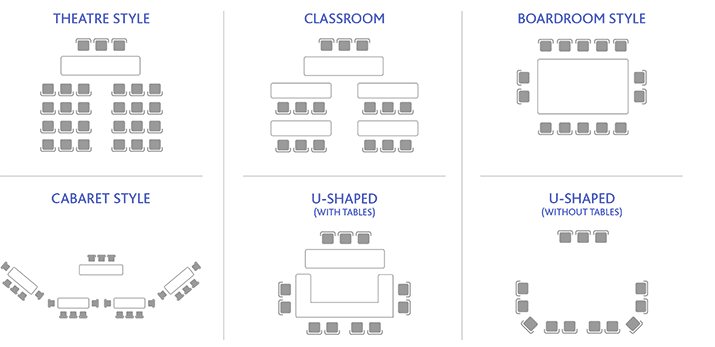 Hollow Square
Tables are arranged in a square or rectangular shape with chairs along the outside.

Promotes group discussion and interaction.

Suitable for workshops, brainstorming sessions, and collaborative activities.
Cabaret Style
Round tables with chairs around them, leaving one side open for presentations.

Combines elements of theater and banquet styles.

Encourages interaction and engagement, suitable for training sessions and workshops.
Fishbone Style (E-Shape or T-Shape)
Tables are set up in the shape of an "E" or "T" with chairs around them.

Provides clear visibility for presentations and encourages interaction.

Suitable for interactive seminars, discussions, and workshops.
Rounds with Workshop Tables
Round tables with chairs, each equipped with supplies for activities.

Perfect for workshops and interactive sessions.

Encourages small group collaboration and hands-on learning.
Lounge Style
Comfortable seating arrangements like sofas, armchairs, and coffee tables.

Creates a relaxed and informal environment.

Suitable for networking events and casual discussions.
You may also opt to rent an open space for a flexible arrangement with minimal furniture. This one is suitable for networking events and exhibitions.
Author Bio: Carmina Natividad is a passionate writer for Meet in DCU, a unique conference venue in Dublin that is perfect for corporate meetings, conferences, seminars, and events. Writing articles about business and events is one thing she finds enjoyable, next to playing the piano.